Understanding The Moon Phases
Have you ever wondered what causes the moon phases? We all know that its appearance changes over time. But why? The good way to understand the phases of the moon is to examine an earth-moon-sun diagram: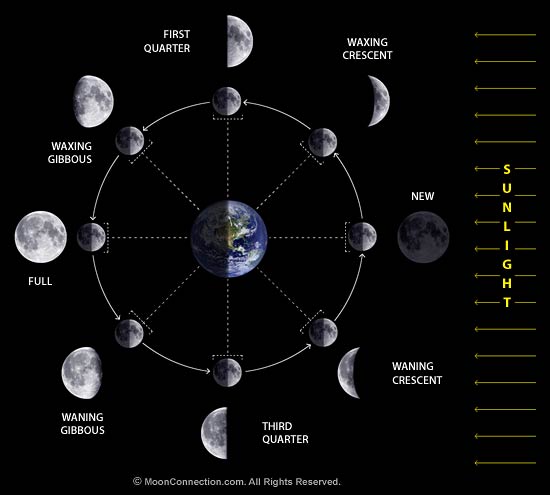 ©MoonConnection.com All Rights Reserved. This moon phases diagram is NOT public domain and may not be used on websites, copied, printed or republished except by permission. Please contact me for high resolution version available for small license fee.
YESTERDAY – FRIDAY, JULY 10, 2020
Yesterday the Moon was in a Waning Gibbous Phase. This is the first phase after the Full Moon occurs. It lasts roughly 7 days with the Moon's illumination growing smaller each day until the Moon becomes a Last Quarter Moon with a illumination of 50%. The average Moon rise for this phase is between 9am and Midnight depending on the age of the phase. The moon rises later and later each night setting after sunrise in the morning. During this phase the Moon can also be seen in the early morning daylight hours on the western horizon.
Via https://www.moongiant.com/phase/today/
Here's what's to come: